MMA: Angela Lee targets winning return in Kuala Lumpur
2 min read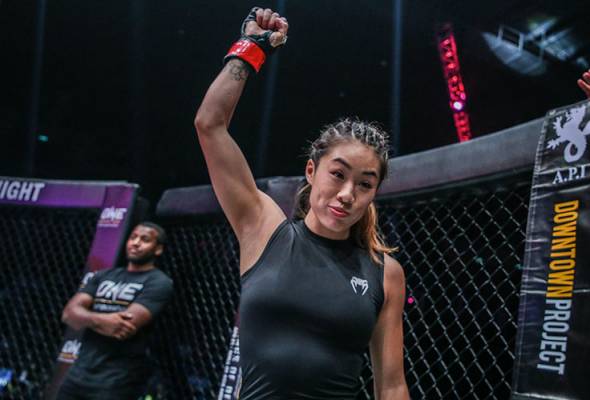 ONE Women's Atomweight World Champion "Unstoppable" Angela Lee is fired up for her return at ONE: MASTERS OF DESTINY in Kuala Lumpur on Friday, 12 July.
However, instead of defending her prestigious World Title in Malaysia, the 22-year-old Singaporean will remain in the strawweight division, where she will face eight-time Brazilian Jiu-Jitsu World Champion and former Evolve teammate Michelle Nicolini.
"I just wanted a quick turnaround. I didn't take any damage in that last fight – just a couple of bruises here and there," Lee shared.
"I just wanted to stay busy and shake it off. My last fight, it was over a year since I fought in the cage, and I just felt like I needed to jump back in there and dust myself off again.
"I was really happy to get another fight after the March one. I kind of wanted to stay active this year regardless of what happened in Japan."
Lee was riding a nine-bout win streak before she challenged ONE Women's Strawweight World Champion "The Panda" Xiong Jing Nan at ONE: A NEW ERA in Tokyo, Japan.
The duo produced arguably the finest women's mixed martial arts bout in ONE Championship history. Lee nearly got the better of her Chinese opponent towards the end of the fourth stanza with a well-executed submission.
Xiong, however, stormed back in the final round to seal the contest via technical knockout to give the "Unstoppable" athlete her first career blemish.
"Looking back at that fight, I know that I needed to make adjustments, and that's what I'm willing to do," she admitted.
"I'm going back to my gym, going back to my family, and just being completely honest about what we need to adjust, what we need to work on – things that we didn't address going into that fight.
"I think there is unfinished business there. There were talks about her coming down to atomweight. I know I definitely want a redemption fight."
As for now, the Singaporean will pin her focus on her upcoming bout in Kuala Lumpur's Axiata Arena.
The pair trained with each other at Evolve MMA two years ago, so they have quite a familiarity with each other.
"I think it's a great match-up. She has a lot of credentials behind her in her jiu-jitsu background," Lee said.
"I knew our paths were going to cross at some time after she started fighting for ONE."
Lee's clash against the 37-year-old Brazilian will serve as the co-main event of the evening.
The headline attraction features a highly-anticipated ONE Featherweight Kickboxing World Grand Prix quarterfinal rematch between Petchmorakot Petchyindee Academy and Giorgio "The Doctor" Petrosyan.